Discover more from MOVIEPUDDING
Food and film, and their occasional overlap.
Over 1,000 subscribers
NEW NEW: we are nowhere and it is now
Passages,Amanda, Earth Mama, Raf's in soho, and brunch at Commerce Inn
My dining strategy has always been to eat cheaply or extravagantly, or as close as I can within my means, and mostly avoid the places in between. Every dinner is, or should be, a delicious adventure for my restaurant-critic aspirant soul, which is why, unless I'm specifically at a small-plates wine-bar establishment and catching up with a friend, I'd never do this…
The classic way to economize of course is to patronize that fancy restaurant for lunch or brunch for a slightly cheaper meal, which you can do at both Raf's and The Commerce Inn—before or after seeing one of these non-Barbenheimer films, in theaters now.
PASSAGES
Ira Sachs, 91 min
Ira Sach's new film charts the dissolution of a marriage between the supercilious film director (Franz Rogowski) and his screen-printer boyfriend (Ben Whishaw) living in Paris when the former starts a serious dalliance with a woman (Adèle Exarchopoulos). This film recently received an NC-17 rating for dedicating too much screentime to the glorious tangles of naked bodies and the thwacking of genitals which while explicit is not quite gratuitous.
Rogowski, Europe's answer to Joaquin Phoenix, adroitly plays the emotionally impetuous man, whose wagging tail knocks down everything in its path. You know this man, the obstinate one who follows flights of fancy and makes you reflect deeply on whether a certain level of neglect and cruelty is inseparable from creative ambition. Dressed in an array of eclectic outfits plucked right out of SSENSE's best of sale—rib-tickling sheers and crop tops resemble Marine Serre or Eckhaus Latta, #menswear pinstriped slacks ala Noah, loosely cabled knits in artificial-pistachio hues, the wardrobe of a heart-breaker—he stakes an unsuccessful claim to the title of worst movie husbands.
He's terrible, but also so terribly uninteresting. The bad behavior registers, but what doesn't is why exactly everyone's so drawn to him, especially Whishaw who only allows himself to come to tears whilst indignantly chopping the onions as cover. There's something both too opaque, and on-the-nose about this movie (take that final freeze frame), and this breakup, a beautiful trainwreck nonetheless.
RIYL: Maurice Pialat's Loulou, butcherblock, Yves Klein blue, telling everyone you've dated a narcissist, European fixed-gears
---
AMANDA
Carolina Cavalli, 93 min
This debut feature is a solid entry into the slacker-cinema canon, photographed in a throwback palette of Instagram golden hour, otherwise known as "Wes Anderson filter." Like the boys in Passages, the titular character here also a crochet vest with multicolored squares that perk up her otherwise black & white outfit, a bid to show her rascally moxie and pick up some boys, or friends. In lieu of the latter she philosophizes to her iPhone, whom she affectionately calls a "a flat little bitch," and invites her former nanny to a rave. At her parents suggestion, she begins to friendship-court her childhood Rebecca (Galatéa Bellugi), a shut-in having an equally trying time with young adulthood, a portion of which she spends under the bed preparing for inevitable doom.
Playing Amanda, Benedetta Porcaroli stomps around her parents' Italian manse and briskly admonishes everyone she encounters in a mix of characteristically Italian staccato and the deadpan sarcasm of angsty youth. Her restless self-absorption obscures a mental health issue that the film chooses not to explore. These instabilities are a normalized quirk, a facet of personality, neither attention-drawing revelation nor a cloud of doom. Rebecca's pathologies are similarly uninterred. An existential despair lays the films groundwork, and the girls' delightfully macabre exchanges speak to universal fears and anxieties. The quick wrap-up would be frustrating except Cavalli keeps a tight leash on Amanda, and Amanda, her precociousness touching down on the right side of twee. 
RIYL: Running with Scissors, Submarine, Urban Outfitters circa 2015, imagining how psyched your younger self would have been if Snail Mail existed back when you were 15
---
EARTH MAMA
Savanah Leaf, 97 min
Savanah Leaf—first time filmmaker and former Olympian, quel range—similarly withholds backstory and refrains from supplying audiences with "befores" and "whys," the details of the personal-historical and the pesky psychologies of intention. Gia (Oakland rapper Tia Nomore, I hope we see more of her) is a single mother and former drug-user trying to win back custody of her two children, and pregnant with a third.
A sense of the maternal is the animating force film, which choreographs the conflicting impulses of motherhood, wants running up against fears, constraints, and expectations imposed by herself and others. Gia struggles with whether give her unborn child up for adoption, and the film also contends more broadly with the ascription of motherhood onto Black women. See Gia's friend calling her "mama" as a term of endearment and another rebuking her lack of maternal responsibility. There's also the system stacked against her: the state needs to see that Gia can provide—she works a part-time mall job at a portrait studio—but also mandates rehab classes, which prevent her from getting extra shifts.  
Earth Mama is a social realist film but its lush visuals thwart the genre's severity and surliness, smoothing the rough edges into a languid calm. It's grazed with touches of the surreal, evoked by the forests and the serene majesty of the purple NorCal sky. This warm quality, the seeds of aspiration, are sown into scenes at Gia's work, too—the pointedly named Photo Magic Shop—where she swaps out tropical backdrops and poses ordinary people for photos, an imaginative exercise of what families could be. In lieu of hard answers, resolution, or condemnation, Leaf gives us hope.
RIYL: Movies by the Dardenne brothers, Kelsey Lu (they provide the original score), warming up with a mug of tea, championing the merits of Oakland over SF, the Common album Resurrection, your mom </3
---
RAF'S
I can't tell if every seat at Raf's is great or terrible, so they're all probably just plain satisfactory. The back dining room, which is where you want to be, is lined with peach banquettes but I preferred the center tables, where depending on how you and your dining companion duke it out, you'll be treated to a half-obscured view of the open kitchen or a princely one looking onto the revelers spilling over the bar. The narrow space is made to look much larger thanks to old mirrors framed by molded panels and a high ceiling covered in flouncy white Dutch Masters clouds. Your eyes are inevitably drawn up there by the bellflower-shaped chandeliers, a bouquet of light. Raf's is old world elegance, a subdued classic where you can take your parents, complete with white table cloths and frequent crumb-sweeping, which you'll definitely need.
@rafsnewyork
on Instagram: "Daily Breads with Beurre de Baratte and Occhipinti Olive Oil"
The keto and gluten-free crowds are out of luck; formerly home to a bread bakery (Parisi to be specific), Raf's houses the predecessor's wood-fired oven and allow carbs run rampant on every section of the menu.
The breadbasket comes with slices of perfunctory sourdough, sweet rolls just large enough to avoid being categorized as "mini," and petite rectangles of focaccia, so excellent and velvety they demand you retire the meager pandemic-era baking skills you acquired after watching Samin Nosrat.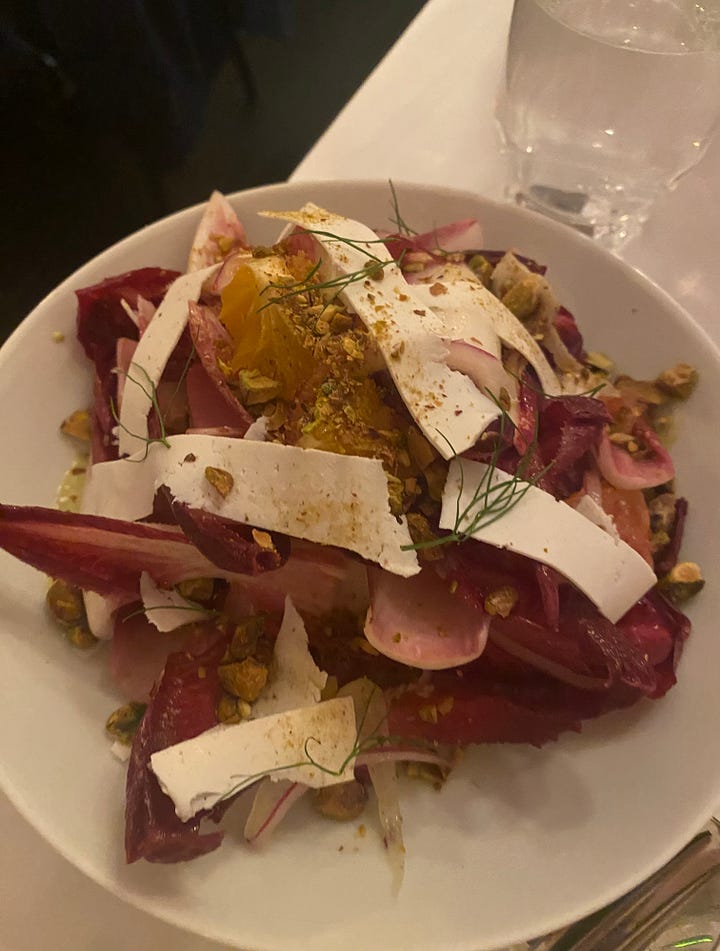 Though many would disagree, you can do without the tardivo salad. The crunchy spears of purplish endives come with wheels of citrus, strips of ricotta salata, and pistachios that are both crushed and creamed into a dressing hidden in the depths of the shallow bowl. It was fine, but save your dollars for something from the hearth, like the Sicilian sfincione that arriving hot in its own cast iron pan. It's a cross between and focaccia and a grandma-slice, encrusted with salty anchovies, cheese, breadcrumbs, and a flourish of dried oregano that keeps well for a midnight snack.
Pastas are of little interest aside from the ruffled strips of mafaldine, tossed of rabbit, fava beans, and parm—less an oily pesto ordeal than a rustically soupy melange—delicious through and through.
Half sleeves of lemon are sealed inside a whole dorade, straightforward, elegant, brightened by some green olive tapenade served on the side. I suspect the roast chicken to follow a similar template: high quality protein, simply but expertly executed, and paired with complementary dose of acid, in that case an herby salsa verde.
The best thing I ate though was the caraflex cabbage, roasted until the leaves were slippery, and the edges lapped by flames. The irrevocable sludginess this dish—the cone-shaped brassica rests on a queen-sized bed of French lentils, dressed with pulverized walnuts and oil—all so intensely brown, belies its elegant and polished flavor. A comparable trick must be implemented on the fan-favorite leeks, an oxymoron to be sure.
I had only one dessert: a triangle of chocolate torte so svelte and sharp it must've been cut by a razor. Chocolate mousse, enrobed in chocolate glace, is stripped of a firm flour foundation; this is a torte, not tart, after all.
I missed out on the this newsletter's namesake: a caramelized white chocolate pudding but if it's anything like the torte—an unwarranted improvement on after-dinner banality—then I'm in. Perhaps I'll convince someone to try it with me, lingering over a single pour of moscato after getting dinner at Shake Shack first…
---
BRUNCH AT THE COMMERCE INN
Brunch services has begun at The Commerce Inn, a sly opportunity to catch a meal on a Saturday morning before the revelers invariably arrive. The menu is a logical extension of dinner and its rustically charged. A farmer's breakfast projects a touch of healthful virtue owing to mashed peas, off-setting house-made sausage, thickly crumbled patties of highest grade, and the thyme-laced strands of potato and onion. Staying true to the Shaker-inspirations the blueberry pancakes are squat, fluffy, and devoid of any gastronomic bells and whistles. You could share a stack, but know that each entree is filling enough on its own.
The patty melt is gobbed with cheese and sufficiently buttery—a gratifying alternative to a burger, typically the lone option for those looking for the lunch during the weekend. For drinks: the spiced and light iced coffee rejects the need for milk, and the Blood Mary wears a crudite headdress, enhancing the botanical properties of gin, should that be your chosen poison. They also have a version of the drink made green tomatoes, and another with oxtail broth called the Bloody Bull that I unsuccessfully tried to force upon my husband.
Just as with dinner, the chalkboard announces an abundance of specials, like fried green tomatoes and oyster omelettes, morning pastries, and dessert, like scones with clotted cream, seasonal strawberry shortcake, and the restaurant's mainstay chocolate hazelnut cake.