Discover more from MOVIEPUDDING
Food and film, and their occasional overlap.
Over 1,000 subscribers
Toronto film festival food diary
Donna's, a restaurant so good I went twice, and lots of chanterelles
"When traveling, it is best to eat without regard to health or one might not eat at all."
Temperatures were climbing towards 90 upon landing but fighting dehydration and easing my way into eating I stopped for some pho at Ca Phe Rang, a Matty Matheson venture that fulfilled my immediate need for soup and was mere blocks from TIFF headquarters. The broth wasn't memorable but the meat was: hunky and lobed with fully-rendered fat. Stuffing summer rolls with shiitake were a nice change of pace from tofu and shrimp, though still nothing like the nem nuoc of SoCal.
The record-cum-wine-bar Little Jerry, which is perfumed by the must of grapes and grandma, the kind of overpainted door knobs that catch that you must smash shut. Xalero tartish and a sliver of flan in a pool of rosemary. 
The food was commendable at Le Swan, where I immediately disconnect one came for the atmosphere, especially when seated in the front window booth. A ham and cheese sandwich on baguette with cornichons and mustard was the presume to a platter of roast chicken slightly oversalted. The green beans, impressively holding onto their firmness in the midst of high heat; they had that breath-of-wok flavor going on.
---
What else
The Owl of Minerva is blessedly open at 11AM and i was ready to feast on Korean stew for breakfast, but forgot the cash, a most massive wad (a stipend from the festival) of which i had hidden in a book somewhere in the airbnb. I wound up with another bowl of pho and summer rolls down the street instead.

Seeking the necessary roughage to counter to poutine and placating party-flatbreads, I found myself facing off against an off-putting fast-casual salad from Impact Kitchen where the sleekness of the space was at odds with the barely functionable assemblage of "healthy things" in the bowl. I would have drank the bone-broth had it not been served to me at boiling temperature.
A fleet of dishes at Magical Taste of China: a platter of diced lamb with a dozen pancakes, taut yet beholding an incredible floury stretch, like an elasticized Sonoran tortilla; lamb again, this time strewn dill in dumplings. a delectably ; skewers of lamb and chicken thighs and chicken hearts; lamb, a little too dry, laid atop plov, also dry. where critics traded gossip and anecdotal brushes with 80s auteurs

I got my taste of overhyped and overpriced downtown at Sud Forno with a gargnelli with dandelion greens and an amaro spritz.
The quesabirria is respectable at Fonda Balam, but my favorite was the queso fundido spiked with your money's worth of chanterelles.

Similarly, Ruru Baked has fine ice cream, but I was awestruck by the goods from the oven, namely the Ruffles square. Chips glued by marshmallows and infused by rosemary in this savory take on Rice Krispies Treats. The which made it the perfect accompaniment to Italian pilsners at Henderson brewing.
---
Donna's - Toronto, ON
I made a reservation for primetime on Friday, but ended up cancelling due to Airbnb check in troubles.
Donna's is serving the sort of quiet inventive food that you'd find in Brooklyn in in the early 2000s, the sort of seemingly routine, seasonally heavy, dishes that sound ascetic on the menu but turn out to have have been quirked up to provide exponential delight. Everything is better than it sounds.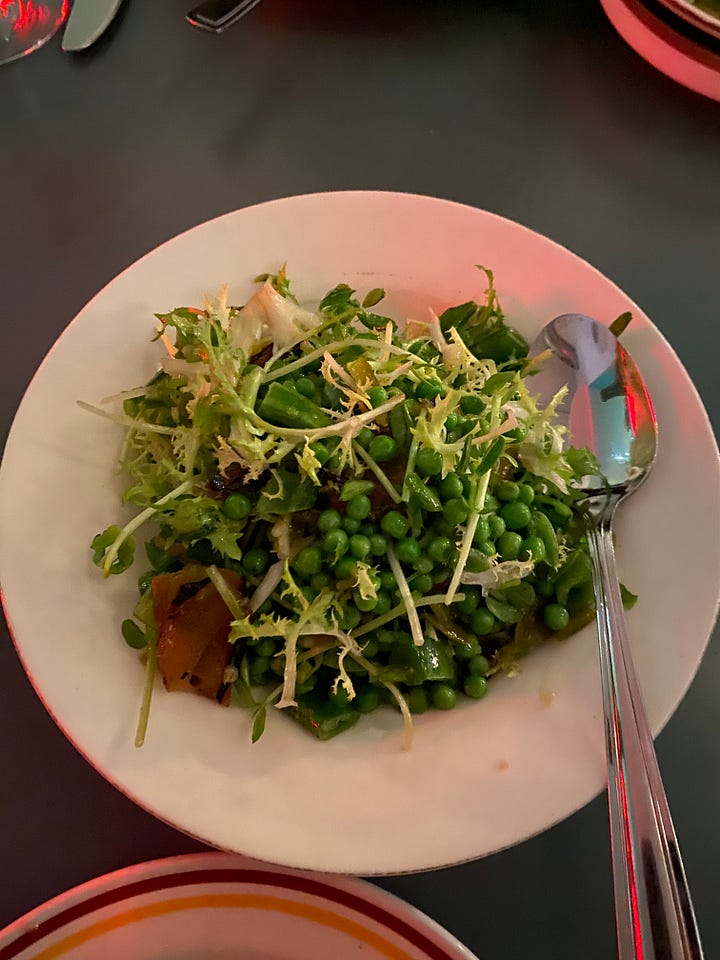 They serve two salads: a leafy one with jammy eggs and croutons, and a more seasonal one, which at the time were green peas. Both were sprightly, thanks to liberal applications of acid. Something to keep in mind if you prefer your salads dressed with more fat/oil.
But for that, you have the characteristic warmth of the mushroom flatbread. chanterelles come buried under melted Comte, and the bread itself tastes of English muffin.
More carbs: sourdough with cottage cheese. Cucumbers and chili oil smashed together. Mint, dill everywhere. a bit of Chinese and Jewish cuisine. a gratifying, underdog alternative to the usual ricotta, burrata, other italian-style dairy.
A plate of heirloom tomatoes, the best dish, emulates a roast beef sandwich. Sliced brandywines, zebras, and little blondes dressed in beef fat, topped with crunchy bits of tempura, brushed slicks of horseradish. Less a deconstruction than it is a bit of magic, like Willy Wonka's Three-Course-Gum.
A pair of surf-and-turfed mains: bucatini swimming in a lobster broth, sweet corn, vidlias, oregano; strip steak with knobs of potato. I initially mistook the yellow cubes for unrendered fat on the beef.
A cold fudge sundae, crowned with meringue. Who can argue with that?
Becoming a regular for a short period of town, I came back. What an foreign sensation, to waltz somewhere at noon on Saturday. The staff had switched out and service wasn't as warm as the evening; the servers seemed a bit harried during brunch hours, despite the place still being somewhat empty.
Spanish tortilla with a cloud of sour cream and chili oil.  A perfect BLT. And an actual roast beef sandwich, which also pulls its own little surprises, with a stealthy addition of parsnips, not even creamed but whole roasted slices. (This is my second time encountering the root veg wedged between bread; further investigations to come.)