Discover more from MOVIEPUDDING
Food and film, and their occasional overlap.
Over 1,000 subscribers
Fall film festival highlights — what to watch now and later
On Fair Play, Poor Things, Netflix movies, food movies, Argentinian movies, biopics from Sofia Coppola and Michael Mann, and more
I spent most of my September sheepishly recovering from the cinematic gluttony and glory of my first-ever Toronto Film Festival (full dispatch here, and a food diary here), followed closely by the New York Film Festival, which just ended last week. Clocking five movies a day was mentally stimulating and taxing—but it turns out a sedentary eight-hours in the movie theater is much easier on the body than my office-computer-desk 9-5, which has historically sent me crawling to pt.
The plan was to write a thorough account of multiple meals at Kwame Onwuachi's Tatiana, just a reflecting pond and reclining figure away from Walter Reade Theater. But, I failed to get into the restaurant no less than three times. I wasn't the first person to show up at 5pm, and I was quoted a wait time of at least 45 minutes—I was always alone, and sometimes it was Monday, making this indeed one of the toughest tables in town.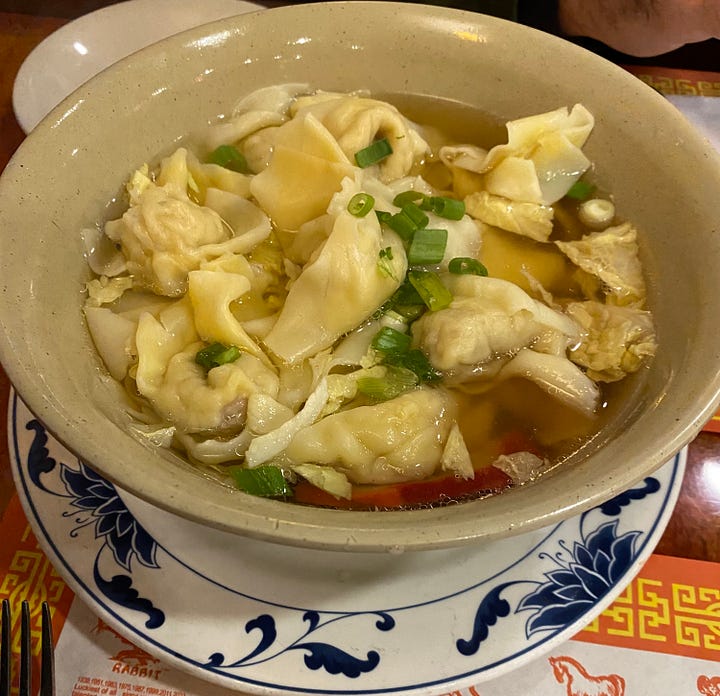 I was somewhat consoled by a porky bowl of wonton soup, and boneless fried chicken and fried rice at La Dinastia, an old Chino-Latino spots on 72nd that's great in a pinch, and in the midst of rediscovery by TikTokers. While I try and hunt down a proper res at Tatiana—I still need to see Anatomy of a Fall and the restored Rivette, which I missed in the whirlwind—here are some snap judgments on what I did catch, some excerpted from writings elsewhere.
i. food movies at NYFF
ii. short takes
---
Food movies at the New York Film Festival
There was an unexpected wealth of food moments at this year's festival, ranging from the shocking, like the cut to hotdogs in Todd Hayne's MAY DECEMBER, to the expected, like Frederick Wiseman's microscopic inspection of a Michelin-starred restaurant in MENUS PLAISIRS LES TROIGROIS. I'll be writing more at length about that four and a half hour movie off-newsletter soon, and also hopefully THE TASTE OF THINGS, which potently salutes the gourmand way of life. The French period-piece is lavished with a sumptuous lighting scheme on par with all the extravagant dishes (Carême! Escoffier!) on display. It's a fashionably throw-back picture in the vein of Chocolat that similarly stars Juliette Binoche and is bound to be a hit.
Elsewhere, food figured into movies in sly and meaningful ways, as it often does, like in Bas Devos's HERE. An unexpected herald of soup season, this quiet film about a Chinese bryologist and Romanian migrant worker crossing paths in Brussels is a testament to collective care. Cooking becomes a powerful salve and a quiet defiance of a system rigged against the people on the outskirts, and the soup a declaration of their existence.
In THE FEELING THAT THE TIME FOR DOING SOMETHING HAS PASSED, writer, director, and star Joanna Arnow serves up a mordant and unsparing glimpse at stalled, early 30s-life. Her character, Ann, never seems to be enjoying her food, which makes her mealtimes, both shared or solitary, feel perfunctory and wooden. This mechanical aspect folds into the film's larger themes about Anne's search for existential and sexual pleasure. Absolutely nailing a particular time and place, it's one of my favorites of the year.
NYFF means two new Hong Sang-soo movies, and I liked each of them, especially since they feel a bit like they're in conversation with one another. Both are noticeably less soju-stained than previous films. The characters in IN WATER eat sandwiches and milk, pizza and cola, while constantly remarking that their chosen carb is typically rice, sounding just like my parents when they stray away from their culturally rooted diet. In IN OUR DAY, an aging poet tries to lay off the booze and there's a bit of significance around his idiosyncratic way of eating ramyun by adding gochujang (a customization that feels bold and redundant, but chile-hounds have at it). When another character tries it out, it reduces them to wheezing tears.
---
SHORT TAKES
Critics unanimously booed FOE, in which Saorsie Ronan and Paul Mescal sort of pass muster as Americans but spectacularly fail to enliven an inert story. Don't get too worked up about the film's sins, which are as common: a lack of clarity, a dearth of vision. in other words, it's simply a bore. In theaters now, Amazon later

Though it's more dramatic than than it is thrilling, FAIRPLAY still sits under the wide umbrella of erotic thrillers, I think, since the suspense ultimately is generated by the upsetting the balance of power dynamics as they relate to sex and gender. This is Fatal Attraction in the post Me-too era exposing (parodying) deep seated masculine fears of the successful working woman. Thinking of it as premium cable schlock might help it go down better. In theaters and on Netflix

An ardent fan of Sofia Coppola, I was woefully disappointed by PRISCILLA but I'd take it over On the Rocks any day. More soon. Oct. 26

FERRARI isn't Michael Mann's best either, a surface-level gloss that isn't even as interestingly flawed as Blackhat… but I'm hooked. Penelope Cruz scorches the earth as a woman scorned, Shailene Woodley passes quietly under the radar, and Adam Driver still manages to sound like Borat in every fifth line reading. Dec. 25

POOR THINGS is Frankenstein Barbie, and not at all as progressive as it wants you to believe. What is most forward-thinking about Yorgos Lanthimos's least provocative film is Emma Stone's look. She's framed by twin curtains of hair and encased in excessively puffed and gathered sleeves, and I left the theater compelled to dig deep into the recesses of my closet and dress as ostentatiously as I please. Dec. 12

Errol Morris's John le Carré documentary THE PIGEON TUNNEL felt rather straightforward and slight; Paul B Preciado's portrait of transness ORLANDO, MY POLITICAL BIOGRAPHY inspired by Woolf, more poignant and refractive. On Apple + and in theaters Nov 10, respectively.

DREAM SCENARIO is an incomplete yet on-the-nose treatise on memes, influencers, and cancel culture from Kristoffer Borgli (Sick of Myself) who at least skillfully harnesses the power of Nic Cage and tempers the more outré tendencies of his formidable showmanship. Nov. 10

Only Catherine Breillat could make something as salacious as an affair between a middle-aged woman and her stepson into something cerebral and tender, as she does in LAST SUMMER.

Alexander Payne's comeback vehicle THE HOLDOVERS engenders strong feelings of both love and hate, which I'll surely work out in a future send.

I admired playwright Annie Baker's debut JANET PLANET, and its textural evocations—Western Mass in the early 90s, s/o to Clarissa Explains It All and plastic bottles of coconut Skin Trip—but it didn't quite cohere in a way I would've liked. Dilating scenes to match frequencies of childhood is a laudable tactic, but comes off as a beginner's attempt at slow cinema with little in the way of visual interest. Coming soon via A24.

Time is elastic in Rodrigo Moreno's THE DELINQUENTS, too, where you're invited to step into languorous days on the countryside away from the trappings of capitalist society. Billing this an "existential heist movie" didn't do me any favors, and I tired at the wandering whimsy of its three hour runtime, but your mileage may vary now knowing this. In theaters now

EUREKA is another long Argentinean film, and an exemplar of slow cinema. Lisandro Alonso combines the observational scrutiny of La Libertad (2001) with hypnotic political geographies of Jauja (2014) to craft this shifting meditation on colonialism, its myths, and effects.

I can't wait to hear what the Drive My Car-heads think of Ryusuke Hamaguchi's latest, EVIL DOES NOT EXIST, the success of which depends greatly on whether you find the film's closing moments of piercing obliquity enriching or diminishing.

Years ago I lived in a Carroll Gardens rowhouse below a trio of drunk, grizzly boys who'd hulk around the staircase and yell at me through the walls after I'd ask them to turn down their music. Once one of them had the gall to buy a pack of ear plugs and throw them at me. I forever felt an ambient threat of violence, even when (or especially when) they'd joke and smile at me the next morning, and if you ratchet up this feeling and couple it the threat of sex, you'll approximate the tense mood THE ROYAL HOTEL. In her follow-up to The Assistant, Kitty Green crafts a suspense thriller, where the vibes are one of total horror, where the monsters are men. In theaters now.

There are people who get THE BEAST, and those who don't. Bonello's ostentatious grappling with love and humanity in the tech-addled present is suitably grotesque, even trollish, and somehow wildly moving all the same. Lea Seydoux's bookending screams will replay forever in my mind, or at least until I'm able to watch this again. Coming soon via Janus/Sideshow

Netflix fails to realize that the proper way to advertise REPTILE is by name-dropping MICHAEL PITT (who's now added middle name Carmen to his billing) instead of Justin Timberlake. A fairly sturdy script is realized through curious directorial choices in this dusty-neo-noir that attempts to balance light and dark through 60s folk and soul, and Benicio del Toro's weary mellow. At least Alicia Silverstone, playing his wife, gets to be more than helpmate, an equal partner trading ideas. On Netflix

What else: Ethan & Maya Hawke's Wildcat (unexpectedly decent); Patricia Arquette's Gonzo Girl (offensive to writers); the Ian McKellan-starring The Critic (Foe-level atrocious); A Normal Family (the Korean version of Herman Koch's The Dinner); and inevitable Oscar frontrunner American Fiction (based on Percival Everett's Erasure)
Links/writings elsewhere
NYFF (Foe, The Beast, Poor things, The Pigeon Tunnel, Janet Planet, Orlando: My Political Biography), LitHub

Toronto Film Festival Dispatch (Hit Man, Dream Scenario, Woman of the Hour, and more) Screen Slate